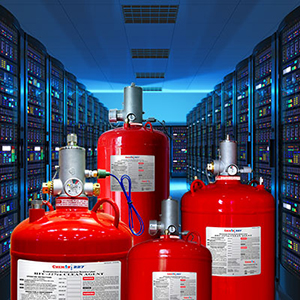 Chemori Clean Agent Fire Suppression Systems
Complementing our FirePro Xtinguish fire suppression system, Hochiki is pleased to introduce a complete HFC-227ea clean-agent fire suppression system from Chemori. The product provides protection for systems where downtime must be minimized to maintain equipment operation and critical business operations.
HFC-227ea is a UL listed, FM approved clean agent that suppresses fire quickly while leaving no residue. It is colorless, odorless, safe for people, and has been used for decades in providing valuable fire suppression protection for applications ranging from server and telecommunication equipment rooms to museums and archives.
Commenting on this addition to the Hochiki Suppression lineup, Rick Boisclair, Vice-President of Suppression Products at Hochiki America stated "We are excited to add the Chemori clean agent fire suppression system to our expanding line of suppression products. With FirePro Xtinguish for electrical, mechanical, battery rooms and other special applications and Chemori clean agent for sensitive equipment rooms, Hochiki is positioned to satisfy any and all fire suppression system applications."
Chemori clean agent is just one of many fire suppression products available from Hochiki Suppression. Contact us today to learn more about our systems, our support, and how we can help you grow your suppression business!
| | | | | | | | | | | | | |
| --- | --- | --- | --- | --- | --- | --- | --- | --- | --- | --- | --- | --- |
| WESTERN | | SOUTHER CA | | SOUTHERN | | MIDWEST | | SOUTHEAST | | NORTHEAST | | PACIFIC |
| Regional Manager | | Application Engineer / Strategic Sales Manager | | Regional Manager | | Regional Manager | | Regional Manager | | Regional Manager | | Director of Sales |
| Peter Holbrook | _____ | Tony Lujan | _____ | Bo Woods | _____ | Steven C. Bailey | _____ | Kimberly Smith-Reeves | _____ | Roger C. Kochis | _____ | Tom Dennis |
| | | | | | | | | | | | | |
| Tel: (714) 454-7362 | | Tel: (714) 670-3248 | | Tel: (714) 595-1722 | | Tel: (714) 388-8113 | | Tel: (657) 255-0171 | | Tel: (714) 869-4090 | | Tel: (714) 670-3205 |
__________________________________________________________________________________________________________________
_______________________

For OEM Business and National Accounts please contact:

_____________

Rick Boisclair
OEM BUSINESS DEVELOPMENT MANAGER
(714) 878 - 8571
__________________________________________________________________________________________________________________