UPLINK
UPLINK
4550CF
GSM CELLULAR COMMUNICATOR
The Uplink® 4550CF cellular alarm communicator delivers full event reporting and complete end-to-end signal verification as a backup to landline connections. It is UL listed and designed to meet all applicable compliance and performance standards, including National Fire Alarm and Signaling Code NFPA 72. The Uplink® 4550CF is compatible with all major fire panels and supports all common event reporting formats. Instant onsite activation is available through the Uplink® dealer website or live operator.
STANDARD FEATURES

+ Complies with NFPA 72, UL 864 (Standard for Control Units and Accessories for Fire Alarm Systems)

+ Installs in minutes with complete end-to-end signal verification
+ Two programmable inputs for independent or redundant signaling
+ UL Listed for Commercial Fire Applications*
+ Full event reporting for telephone line monitoring for full backup communications
+ Hourly, daily, or weekly testing options
+ Works with virtually any central station
+ Industry's only proprietary ISO certified network services

+ Flat-rate billing for improved dealer profitability

+ Customized product marketing services through a simple e-commerce website

+ Instant activation by secure dealer website, live operator, or Uplink Installer

+ Contact ID, SIA, Modem IIe/IIIa2, DMP, Pulse 4/2 (:10, :20, or :40 PPS) Delivered via IP or Dial-up



*Secondary Only. Primary Listing is currently under review by UL.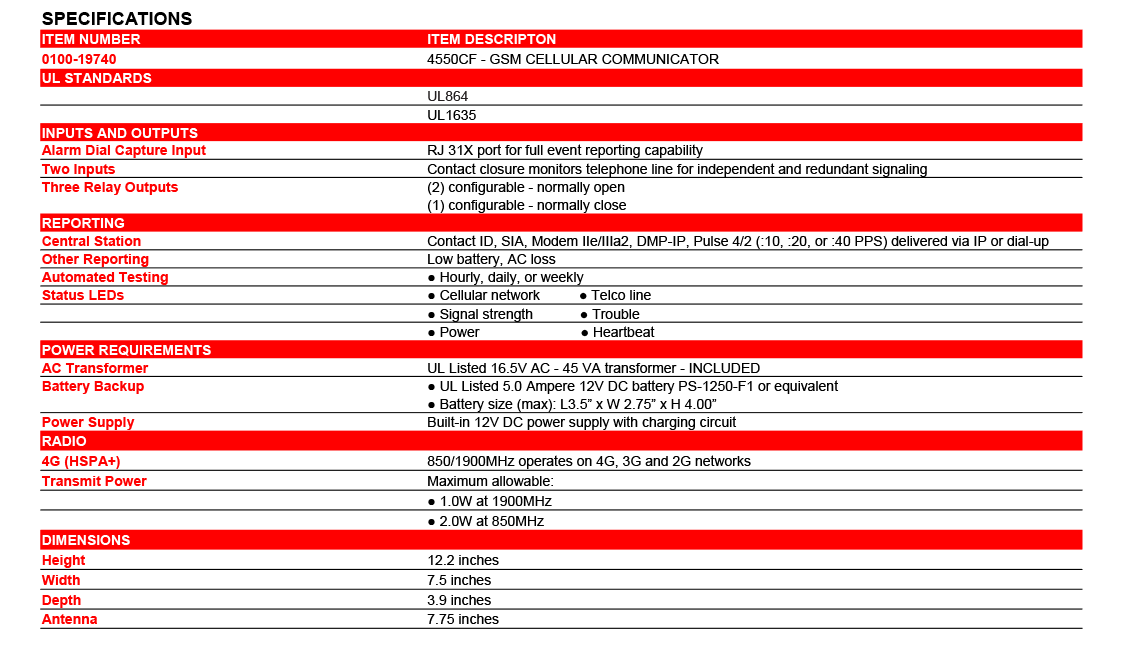 UPLINK

4550CF

4-ZONE FIRE PANEL WITH BUILT-IN PRIMARY GSM CELLULAR COMMUNICATOR

The Uplink® 4555 is a UL listed all-in-one control panel and communicator for commercial fire applications. It includes four supervised zones, a 4-wire smoke detector 24V aux power circuit, annunciator output, and 24V NAC output circuit.



STANDARD FEATURES

+ UL listed for ANSI/UL 864
+ Reports Contact ID, SIA
+ Four supervised zones
+ 4-wire smoke detector 24V Aux Power
+ 24V NAC output circuit
+ External LED indicators
+ Alarm reset button

+ Onboard sounder

+ Built-in charger for up to two 12AH batteries

+ Includes external AC power supply

+ Provide primary control or use as a slave communicator

+ Cost savings over traditional fire alarm panels and communicator combinations

+ Digital dialer and cellular radio communicator combinations

+ Ideal for sprinkler monitoring systems, small to medium systems and retrofits.