HOCHIKI INTRODUCES NEW MULTI CRITERIA CO, SMOKE AND HEAT DETECTOR
— New ACD-V Multi Criteria Now Available For Immediate Shipment—
For Immediate Release
BUENA PARK, CA, January 25, 2017 – Hochiki Corporation, a leader in fire alarm / life safety systems; announced today that the new ACD-V Carbon Monoxide, Smoke and Heat Detector is available for immediate shipment. The ACD-V is Hochiki's latest design, and features multi-sensor capabilities. The ACD-V, which takes optimal advantage of its multiple sensing capabilities, will redefine "life safety detection" expectations.
The Hochiki ACD-V CO, Smoke, and Heat Multi-Sensor is particularly suited for detecting fires produced by the burning of the wide range of combustibles found in today's buildings. Temperature monitoring is achieved by thermistors placed for optimum sensitivity. Also, the ACD-V is suited for detecting deadly levels of carbon monoxide (CO). Hochiki's unique design allows fast response to flaming/smoldering fires and/or carbon monoxide levels while minimizing nuisance alarms. "Many consumers are still learning about the deadly effects of Carbon Monoxide poisoning" said Wayne Oliver, Vice President of Sales and Marketing at Hochiki Corporation. "As a manufacturer we need to emphasize the importance of installing the proper detectors using the latest technology to save lives. We at Hochiki have the latest and most advanced technology available in the industry today."
The ACD-V smoke sensor utilizes a chamber that allows for easy 3600 smoke entry. The smoke sensing chamber is protected by a unique stainless steel screen that reduces or eliminates false alarms due to steam. Pulse sensing together with an advanced algorithm allows for fast smoke sensing while reducing false alarms due to transients. Hochiki America's FireNET Plus fire alarm control panels automatically adjust the sensor's threshold to compensate for dirt and environmental contamination to make the ACD-V the most stable early warning detector ever.
The ACD-V heat portion incorporates a highly linear dual thermistor circuit. A specially designed cover protects the thermistors while allowing maximum air flow. The ACD-V supports both fixed-temperature and rate-of-rise sensing. The fire alarm control panel can adjust the sensor threshold for different environmental requirements.
At the heart of the ACD-V is Hochiki's carbon monoxide (CO) sensing cell which serves the dual purpose of supplementing smoke detection in combination with the photodiode arrangement and monitoring colorless, odorless and deadly carbon monoxide levels for life safety. When the carbon monoxide exceeds the poisonous levels, either over time or instantaneously depending on programming, the sensor transmits an interrupt to the control panel indicating a CO alarm.
Up to 127 devices are permitted on each SLC loop. A detector's address is set electronically with the aid of a hand-held programming unit to eliminate address corruption from environmental influences later on. The sensor mounts to a base and incorporates a locking mechanism for secure installation. The base provides mounting slots and terminals for field wiring. The sensor incorporates dual LEDs for easy 3600 viewing of the detectors status.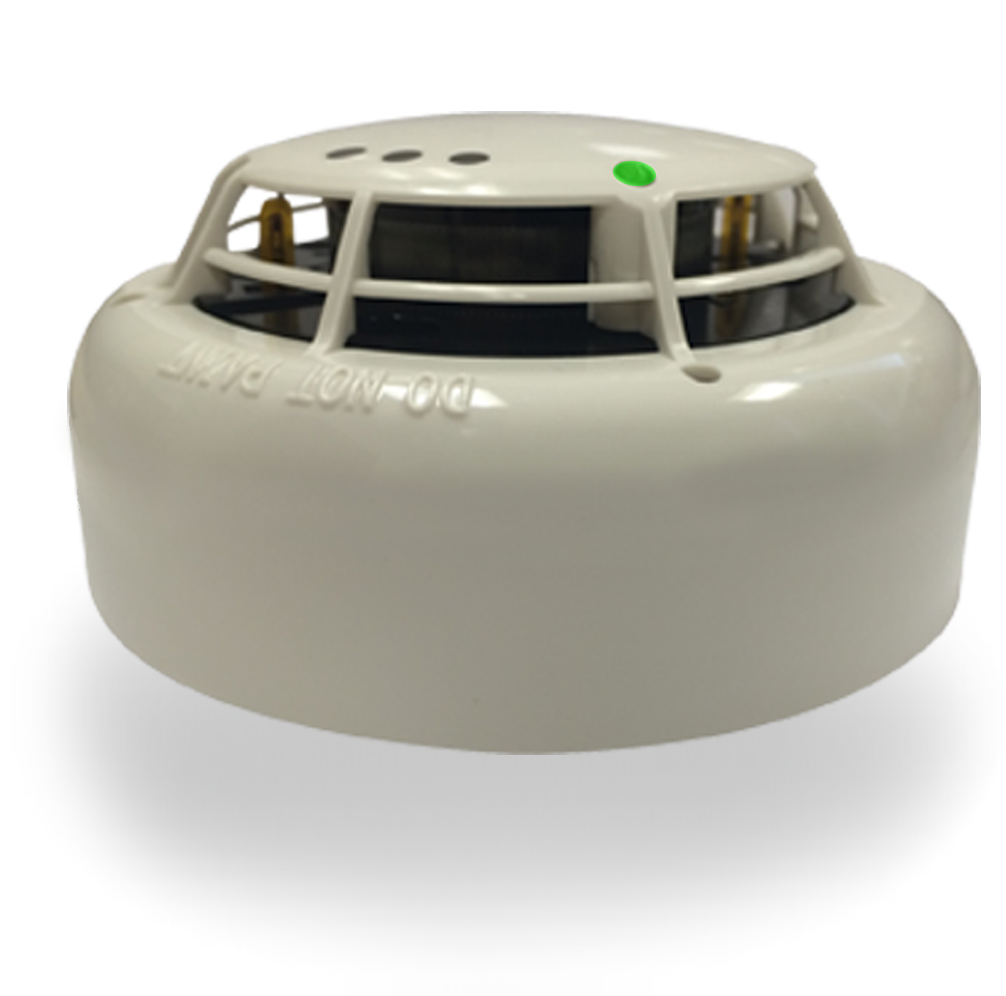 About Hochiki Corporation
Hochiki Corporation is a wholly independent, multinational, publicly listed company with over 1,700 employees working across six manufacturing plants, 36 sales offices and 13 subsidiaries.
For almost 100 years Hochiki Corporation has led the way in the design and manufacturer of innovative life safety solutions. Its leading edge commercial and industrial fire detection and emergency lighting products have acquired global acceptance as the benchmark for high-integrity and long-term reliability.
Hochiki's American headquarters were established in 1972 in California. Operating under Hochiki America, the business provides advanced fire detection and life safety systems across the United States, Mexico, Latin America, UK, Europe, and Middle East.
Hochiki's ongoing commitment to manufacturing innovation ensures customer satisfaction. Our production facilities in Japan, the USA and Europe offer international continuity in quality, service and supply. For more information, please contact Ron Kong; kEncEmailnbslfujohAipdijlj/dpn.